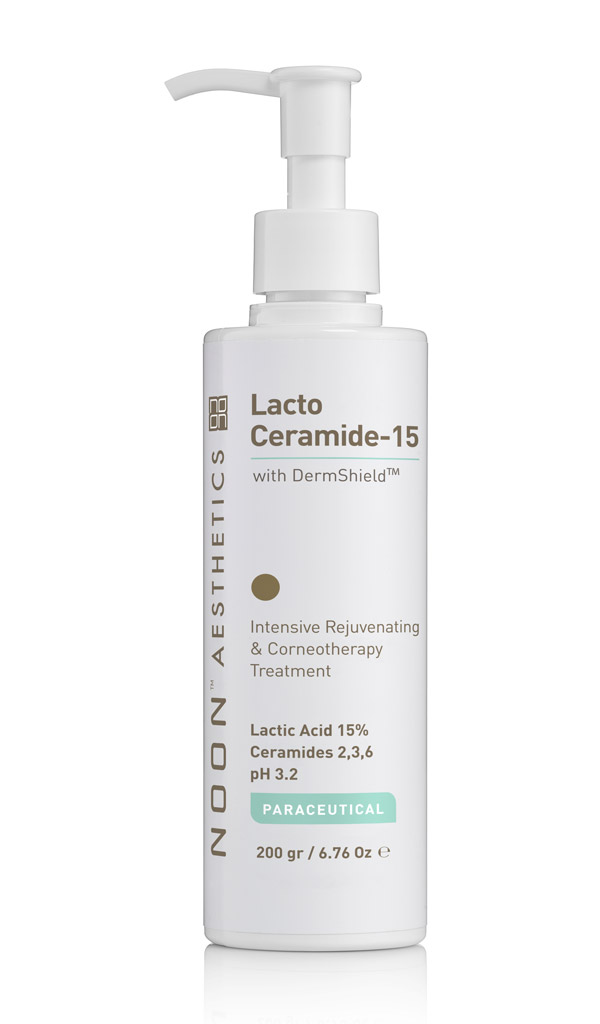 Intensive Rejuvenating and Corneotherapy Treatment For All Skin Types
LactoCeramide-15 (Clinic size)
Intensive Rejuvenating and Corneotherapy Treatment For All Skin Types
LactoCeramide -15 is a highly effective anti-aging treatment that is based on a combination of 15% Lactic Acid with Ceramide types 2,3,6. The synergetic effect between 15% lactic acid and physiological skin lipids promotes skin regeneration, reduces the appearance of fine lines and wrinkles, helps to reinforce the skin's protective barrier, reduces the appearance of age spots, and significantly increases the moisture levels of the skin. With the added protective DermShield™️ complex, users of all skin types can enjoy the benefits of high concentration Alpha Hydroxy Acid (AHA) and ceramides daily, all year round, and without the typical irritation that is usually associated with highly concentrated AHA.
Apply Lacto-15 after professional chemical peels or other in-clinic treatments that target the signs of aging and hyperpigmentation. During daytime it is recommended to apply NOON Brush&Go™ sunscreen powder with SPF 50.
Warnings
For external use only. Avoid direct contact with the eyes. Contains Strontium Chloride. Keep out of reach of children
15% Lactic Acid – a potent yet gentle Alpha Hydroxy Acid (AHA), used primarily to stimulate the exfoliation of dead skin cells and promote epidermal regeneration, without flaking the skin. In addition, Lactic acid has such an intense epidermal hydration effect, that no other substance can achieve comparable results. Lactic Acid is also a major component of the natural moisturizing factors (NMF) of the skin and is crucial for keeping the epidermis moist and elastic. With the added protective DermShield™ complex, 15% Lactic Acid can be used daily, all year round, on the face, the neck, and around the eye area.
Ceramides 2,3,6 – a physiological lipids complex that is naturally found within the lipid barrier at the upper layer of the skin. The natural production of these essential lipids decreases with age, making the lipid barrier compromised and leaving the skin prone to water loss and inflammation. Daily product application allows these ceramides to easily integrate with the lipid barrier, prevent trans-epidermal water loss, help the skin repel pathogens and toxins, and reduce sensitivity and skin inflammation. This, in turn, allows the skin to recover and increase the production of collagen and elastin fibers in the deeper dermal layers.
Full list of ingredients–  Aqua, Lactic Acid, Isopropyl Myristate, Ethylhexyl Palmitate, Dimethyl Sulfone, Strontium Chloride Hexahydrate, Propanediol, Cyclopentasiloxane, Sodium Hydroxide, Cetyl Alcohol, Peg-150 Distearate, Steareth-2, Glyceryl Stearate, Peg-100 Stearate, Phenoxyethanol, Behenyl Alcohol, Dimethicone, Polyglyceryl-10 Pentastearate, Citrus Limon Peel Oil, Parfum, Xanthan Gum, Sodium Stearoyl Lactylate, Ceramide3, Caprylyl Glycol, Sodium Phytate, Ceramide2, Ceramide6, Phytosteryl Isostearate, Alcohol.