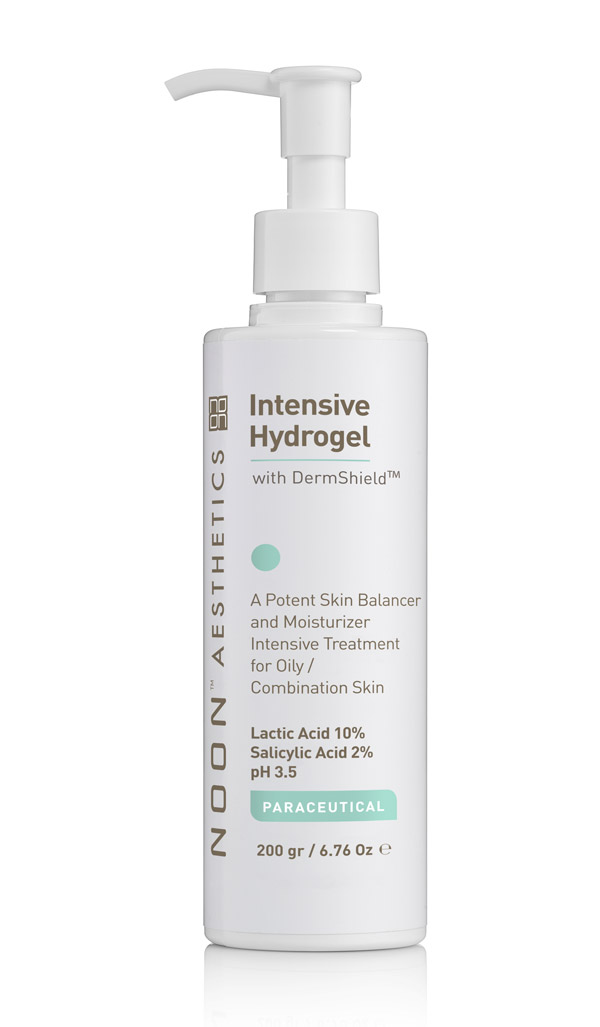 A Potent Skin Balancer and Moisturizer Intensive Treatment for Oily / Combination Skin
Intensive Hydrogel (Clinic Size)
A Potent Skin Balancer and Moisturizer Intensive Treatment for Oily / Combination Skin
Intensive Hydrogel is a light balancing emulsion, consisting of 10% Lactic Acid (AHA) combined with 2% Salicylic Acid (BHA) and DermShield™ protective complex. It is an ideal add-on during professional in-clinic peels or other treatments that target acne-related conditions.
Intensive Hydrogel is a potent skin balancer and moisturizer that improves the quality of oily/combination skin and provides an intensive treatment without causing irritations or breakouts, thanks to the addition of the DermShield™ complex. It has powerful oil-clearing and anti-inflammatory properties, allowing it to effectively purify and calm problematic skin.
Intensive Hydrogel is the first skincare product with 100% Natural & Eco-responsible Salicylic Acid! Salicylic Acid is a BHA and an excellent agent for cell exfoliation, with oil balancing and anti-bacterial properties. This formula contains an upgraded, pure and 100% natural ingredient.
Apply Intensive Hydrogel after professional chemical peels or other in-clinic treatments that target skin inflammation and acne-related concerns.
Warnings
For external use only. Avoid direct contact with the eyes. Do not apply on broken or bleeding skin. Keep out of reach of children
10% Lactic Acid (AHA) + 2% Salicylic Acid (BHA) – Lactic & Salicylic acids are used primarily as exfoliating agents, promoting smoother texture and faster healing of skin blemishes. Both acids regulate pH levels and thus decrease the bacterial load in the pores. Salicylic Acid has significant anti-bacterial and anti-inflammatory properties which are ideal to purify and soothe problematic skin. This formula contains 100% Natural Salicylic Acid, for maximum compatibility and efficiency.
Full list of ingredients – Aqua, Lactic Acid, Propanediol, Dimethyl Sulfone, Strontium Chloride Hexahydrate, Cyclopentasiloxane, Sodium Hydroxide, Gaultheria Procumbens Leaf Extract, Polyacrylate Crosspolymer-6, Citronellyl Methylcrotonate, Isononyl Isononanoate, Ethylhexyl Stearate, Polysorbate 20, Phenoxyethanol, Peg-100 Stearate, Cetyl Alcohol, Glyceryl Stearate, Cetearyl Wheat Straw Glycosides, Cetearyl Alcohol, Dimethicone, Parfum, Caprylyl Glycol, T-Butyl Alcohol, Sodium Phytate, Xanthan Gum.