NOON – Binding Aesthetics and Science
"NOON" is an ancient philosophical principle describing the "primordial waters"to constitute the source of all exists in the world. These principles are the core of our business, radiating throughout all or company's products, technology, processes and partners. NOON Aesthetics develops and manufactures a line of professional Skin Care, with the belief that quality, excellence and professionalism – combined with the industry's leading innovation and technology – lead to impressive results and excellent skin conditions.
The use of NOON Aesthetics' DermShield™ technology, combined with top-quality ingredients and an uncompromising adherence to precise concentrations, enables the company's client to enjoy the most effective results available today in the field of skin care.
Founded in 2012 by skin care connoisseur and prominent chemist, Masha Minkin, together with technology innovation specialist, Eran Rosman, NOON Aesthetics has successfully entered the international skincare market.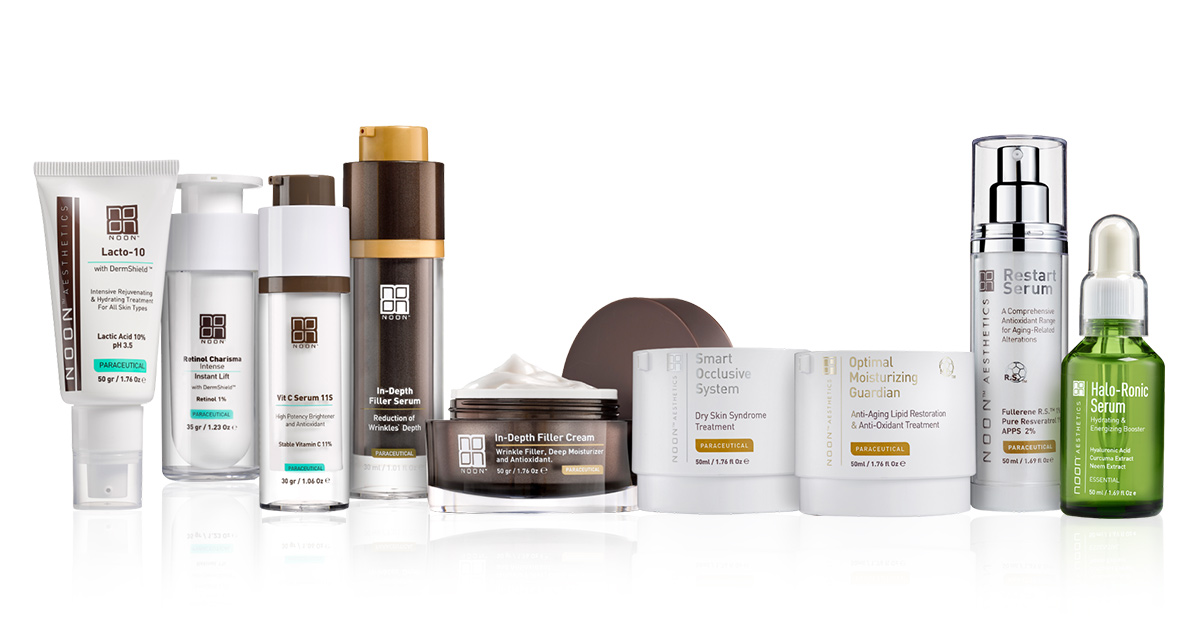 DermShield™ Patented Technology – High Concentration, No Irritation
We believe that everyone deserve a beautiful skin. Therefore we developed our unique DermShield technology that enables us to manufacture the world's best and most effective skin care products.
Our innovative DermShield™ technology enables NOON Aesthetics™ to develop a paraceutical skin care product line that contains active ingredients at breakthrough high concentration levels without the common side effects, such as irritation, burning, redness and unpleasant sensation. We provide impressive results for aging skin, hyperpigmentation, sun damage and loss of elasticity, blemishes, acne, seborrhea and other skin concerns.