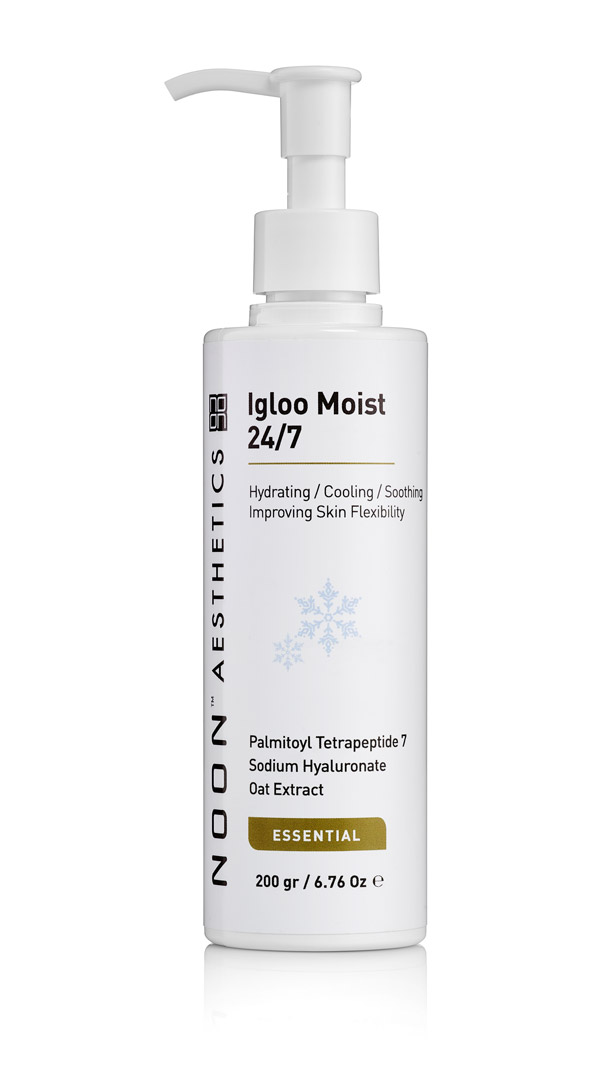 Hydrating and Cooling Treatment for All Skin Types
Igloo Moist 24/7 (Clinic size)
Hydrating and Cooling Treatment for Sensitive and Irritated Skin
Igloo Moist 24/7 provides calming, cooling, and anti-inflammatory benefits through a combination of powerful soothing agents. Ideal for calming sensitive or irritated skin after professional in-clinic treatments that induce heat sensation and redness (i.e. chemical peels, radiofrequency, IPL)
Based on advanced cooling technology, the cream produces a soothing and cooling effect, while moisturizing and calming the skin, improving elasticity and firmness, and delaying the appearance of aging signs. Igloo Moist 24/7 is also excellent for supporting and moisturizing problematic skin. Suitable for all age groups.
Apply Igloo Moist 24/7 after professional chemical peels or other in-clinic treatments that induce heat sensation and redness, such as non-invasive radiofrequency and IPL.
Warnings
For external use only. Avoid direct contact with the eyes. Keep out of reach of children
Avena sativa (Oat) Extract – Avena sativa is a soothing, smoothing, and skin-nourishing ingredient. Oat extract is rich in polyphenols, B complex vitamins, vitamin E, proteins, essential lipids, and minerals. It exerts strong antioxidant, anti-inflammatory, and skin-soothing activities. Oat Extract is recommended for all skin types, especially for sensitive skin and dry and flaky skin.
Palmitoyl Tetrapeptide 7 – a bioactive peptide that enhances the skin's tolerance to sun exposure, pollution, and chemical irritants. Works by reducing the secretion of IL-6 (Interleukin-6), a dominant cytokine in the skin that triggers inflammation. It also regulates cell growth, gene activation, proliferation, and survival. Pro-inflammatory cytokines, such as IL-6, are linked to internal and external skin aging induced by UV radiation (photodamage). By inhibiting the secretions of these pro-inflammatory cytokines, Palmitoyl Tetrapeptide 7 protects the skin against premature skin aging and slows the appearance of aging signs such as wrinkles, crepey skin, hyperpigmentation, etc.
Sodium Hyaluronate – Hyaluronic acid with very high purity that provides deep hydration. Sodium Hyaluronate, which can penetrate deep into the skin, has remarkable water-binding properties which allow it to hold and retain moisture in the deeper skin layers. By enriching the deeper layers with moisture, the skin can function more effectively, produce more collagen & elastin fibers, control inflammations, and protect itself from stress. Sodium Hyaluronate also helps to plump the skin, smooth the skin's surface, reduce fine lines, and improve the overall skin complexion.
MET + Menthyl PCA + Lactamide MEA – a combination of cooling ingredients that activates TRMP8 receptors and induces a nerve impulse that provides a cooling sensation.
Full list of ingredients – Aqua, Glycerin, Isopropyl Myristate, Cyclopentasiloxane, Vitis Vinifera Seed Oil, Caprylic/Capric Triglyceride, Sodium Acrylates Copolymer, Avena Sativa (Oat) Kernel Extract, Phenoxyethanol, Lecithin, Dimethicone, Menthyl Pca, Lactamide Mea, Parfum, Sodium Hyaluronate, Citrus Aurantium Bergamia Fruit Oil, Caprylyl Glycol, Steareth-20, Sodium Phytate, Potassium Sorbate, Citric Acid, Sodium Benzoate, Chlorhexidine Digluconate, Guaiazulene, Alcohol, Menthane Carboxamide Ethylpyridine, Palmitoyl Tetrapeptide-7.