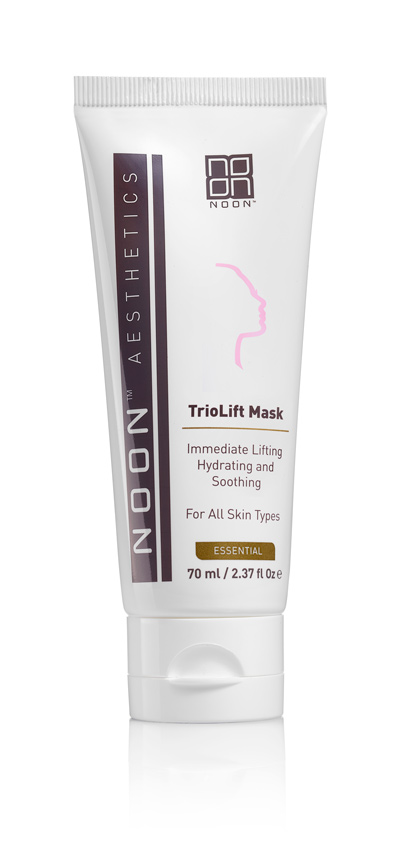 Immediate Lifting, Hydrating, and Soothing Treatment for All Skin Types
TrioLift Mask
Immediate Lifting, Hydrating, and Soothing Treatment for All Skin Types
TrioLift Mask is an advanced anti-aging formula that immediately lifts the appearance of the skin. It provides a quick anti-wrinkle effect, while hydrating, smoothing, and soothing the skin. TrioLift mask is designed to reduces the appearance of aging signs in all skin types and ethnicities, all year round.
Apply a generous amount of the mask onto thoroughly cleansed face, neck, and chest areas. Leave on for 10-15 minutes and then remove with lukewarm water.
Warnings:
For external use only. Avoid direct contact with the eyes. Keep out of reach of children.
Acetyl Dipeptide -1 Cetyl Ester – AKA the "gentle peptide", it is the first cosmetic active ingredient that acts as a switch messenger to eliminate skin irritation and discomfort while enhancing elasticity. It stimulates the release of pro-endorphins, providing an exhilarating effect on the skin, and inhibits muscle contractions responsible for the appearance of expression wrinkles. Research has shown that topical application of this peptide protects skin cells from the visible impact of glycation, a process in which destructive sugar molecules progressively weaken the skin's supportive elements.
Hydrolysed Sesame Protein PG – Propyl Methylsilanediol – A new generation smoothing agent that provides immediate tightening and lifting effect. It increases the skin's firmness and helps to form a film to retain moisture and enhance luminosity. It also prevents the skin from drying out and diminishes the appearance of wrinkles.
Allantoin – extracted from the Comfrey plant, Allantoin offers soothing, moisturizing, and healing benefits to irritated skin with blemishes. Known for its moisturizing and exfoliating properties, Allantoin helps the skin remain well-hydrated, smooth, and rejuvenated.
Shea Butter – an excellent source of vitamins and fatty acids that makes it incredibly nourishing and moisturizing for the skin. Shea butter helps to lock moisture in the skin and provides an additional protective layer to the skin, allowing it to function more efficiently and produce more collagen and elastin proteins.
Full list of ingredients: Aqua, Zinc Oxide, Glycerin, Butyrospermum Parkii (Shea Butter), Caprylic Capric Triglyceride, Cetyl Alcohol, Isononyl Isononanoate, Titanium Dioxide, Petrolatum, Butylene Glycol, Glyceryl Stearate, Oleth-10, Peg-100 Stearate, Peg-150 Distearate, Steareth-2, Phenoxyethanol, Alantoin, Acetyl Dipeptide-1 Cetyl Ester, Acrylates Copolymer, Alumina, Aluminum Stearate, Parfum, Isodeceth-6 Xanthan Gum, Hydroxyethylcellulose, Citrus Aurantium Bergamia Fruit Oil, Citrus Grandis (Grapefruit) Peel Oil, Tocopheryl Acetate, Laureth-3, Ppg 3 Benzyl Ether Myristate, Simethicone, Caprylyl Glycol, Sodium Phytate, Ethylhexyl Cocoate, Sodium Polyacrylate, Vp/Dimethiconylacrylate/Polycarbamyl/Polyglycol Ester, Hydrolyzed Sesame Protein Pg Propyl Methylsilanediol, Polysorbate 20, Methylparaben, Potassium Sorbate, Propylparaben, Alcohol.