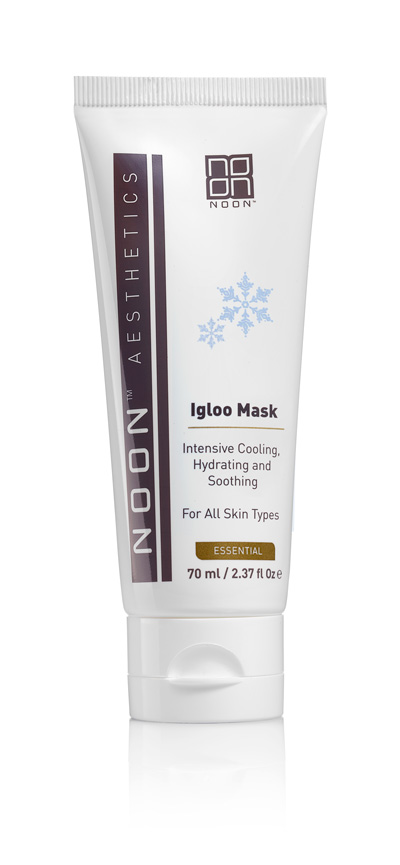 Intensive Cooling, Hydrating, and Soothing Mask for All Skin Types
Igloo Mask
Intensive Cooling, Hydrating, and Soothing Mask for All Skin Types
Igloo Mask soothes, hydrates, and cools the skin, providing an immediate and long-lasting fresh sensation. The Igloo Mask tightens enlarged pores, reduces redness and irritation, and helps to improve the condition of damaged skin for a smooth and youthful look. Recommended after in-clinic peels or sun exposure to alleviate discomfort and soothe the skin, or for anyone with damaged and sensitive skin.
Apply a generous amount of the mask onto thoroughly cleansed face, neck, and chest areas. Leave on for 10-15 minutes and then remove with lukewarm water. Warnings For external use only. Avoid direct contact with the eyes. Keep out of reach of children.
MET + Menthyl PCA + Lactamide MEA – a combination of cooling ingredients that activates TRMP8 receptors and induces a nerve impulse that provides a cooling sensation.
Xylitol – a muti-functional sugar molecule with excellent moisturizing and soothing properties. Xylitol stimulates endogenous synthesis of skin lipids (ceramides) and Natural Moisturizing Factors (NMF) to reinforce the skin barrier function, reduce trans-epidermal water loss, and allow the skin to remain well-hydrated. In addition, Xylitol promotes the synthesis of hyaluronic acid in the deeper layers of the skin, assisting skin cells to function more effectively and produce more collagen fibers.
Arnica Montana Flower Extract – aka "Mountain Daisy", Arnica Montana is a bright yellow flowering herb with great soothing and healing properties. It helps to alleviate itchiness and irritation, expedites skin healing, and reduces swelling and puffiness.
Coffee Arabica (Coffee) Seed Extract – the concentrated oil from the coffee bean plant promotes blood circulation and leads to healthy and energized skin. Coffee bean extract is also rich in vitamin E, essential fatty acids, sterols, and other soothing ingredients which make it a potent antioxidant that offers protection against photodamage and skin inflammations.
Full list of ingredients: Aqua, Glycerin, Caprylic Capric Triglyceride, Ethanol, Cocos Nucifera (Coconut Oil), Polyacrylate Crosspolymer-6, Xylitol, Arnica Montana Flower Extract, Prunus Armeniaca (Apricot) Kernel Oil, Tocopheryl Acetate, Coffea Arabica (Coffee) Seed Extract, Phenoxyethanol, Anhydroxylitol, Cetearyl Wheat Straw Glycosides, Cetearyl Alcohol, Cetyl Alcohol, Parfum, Xylitylglucoside, Xanthan Gum, Lactamide Mea, Menthyl Pca, Citrus Medica Limonum Peel Oil, Caprylyl Glycol, T Butyl Alcohol, Sodium Phytate, Citric Acid, Potassium Sorbate, Sodium Benzoate, Guaiazulene, Alcohol, Menthane Carboxamide Ethylpyridine.