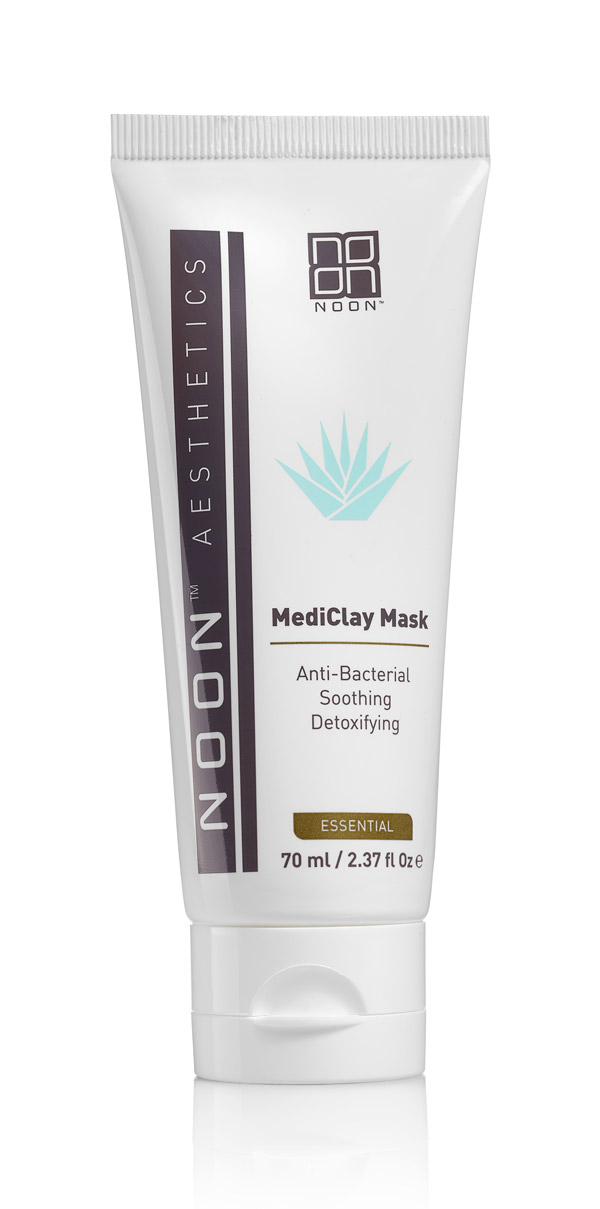 Intensive Purifying Treatment for Oily/Problematic Skin
MediClay Mask
Intensive Purifying Treatment for Oily/Problematic Skin
MediClay Mask is a purifying mask for the treatment of oily/problematic skin. MediClay Mask detoxifies the pores, alleviates redness and irritation, helps to minimize breakouts, and reduces the proliferation of acne-causing bacteria. Ideal mask for oily and acne-prone skin types.
Kaolin Clay – an effective "magnet" for dirt, sebum, and other types of impurities. Kaolin clay, which is considered one of the gentlest types of clay in cosmetics, absorbs sebum and prevents pore clogging and blemishes without drying the skin.
Oleanolic Acid – a powerful inhibitor of cellular inflammation and is a major protector of cells against oxidative stress. It inhibits the 5-α reductase enzyme to fight hyper-seborrhoea and to reduce the hormonal impact on acne-prone skin.
Nordihydroguaiaretic Acid (NDGA) – a powerful antioxidant that regulates cell growth and inhibits hyperkeratosis and inflammation. It also helps to suppress bacterial growth and prevent pimple formation, making it an ideal ingredient for acne-prone skin types.
Propolis Extract – expedites wound healing and recovery from acne blemishes thanks to its potent antibacterial and anti-inflammatory properties.
Salvia Officinalis (Sage) Extract – contains antiseptic ingredients that help to prevent skin infections and acne proliferation. Sage extract is also rich in Ursolic Acid – a strong anti-inflammatory and anti-melanogenic ingredient, clinically proven to reduce skin sensitivity to irritants and lighten the appearance of post-acne pigmented spots
Allantoin – extracted from the Comfrey plant, Allantoin offers soothing, moisturizing, and healing benefits to irritated skin with blemishes. Known for its moisturizing and exfoliating properties, Allantoin helps the skin remain well-hydrated, smooth, and rejuvenated. It also helps to prevent post-inflammatory hyperpigmentation that is commonly associated with acne breakouts.
Eucalyptus Leaf Oil – essential oil with skin healing, antioxidant, and anti-inflammatory benefits. This non-comedogenic oil helps to regulate sebum secretions and has strong anti-microbial properties that make it an excellent ingredient for the treatment and management of acne-prone skin.
Lavandula Angustifolia (Lavender) Oil – in addition to its invigorating aroma, Lavender essential oil targets the acne bacteria by reducing inflammation, regulating sebum production, and unclogging the pores.
Sulfur – an anti-bacterial ingredient with proven anti-acne properties. Sulfur is commonly used to eliminate access bacteria and remove sebum and dead skin cells from the pores, effectively reducing bacterial load and preventing future breakout.
Full list of ingredients: Aqua, Kaolin, Zinc Oxide, Glycerin, Vitis Vinifera (Grape) Seed Oil, Cetyl Alcohol, Petrolatum, Stearic Acid, Caprylic Capric Triglyceride, Isopropyl Myristate, Glyceryl Stearate, Peg-100 Stearate, Peg-150 Distearate, Steareth-2, Salvia Officinalis Leaf Extract, Sulfur, Nordihydroguaiaretic Acid, Phenoxyethanol, Allantoin, Sodium Hyaluronate, Palmitic Acid, Triethanolamine, Butylene Glycol, Xanthan Gum, Caprylyl Glycol, Peg-60 Almond Glycerides, Eucalyptus Globulus Leaf Oil, Citrus Limon (Lemon) Peel Oil, Lavandula Angustifolia Oil, Hydroxyethylcellulose, Ppg-3 Benzyl Ether Myristate, Myristic Acid, Propolis Extract, Sodium Phytate, Ethylhexyl Cocoate, Sodium Polyacrylate, Sodium Sulfate, Citric Acid, Potassium Sorbate, Sodium Benzoate, Polysorbate 20, Carbomer, Alcohol
Apply a generous amount of the mask onto thoroughly cleansed face, neck, and chest areas. Leave on for 10-15 minutes and then remove with lukewarm water.
Warnings:
For external use only. Avoid direct contact with the eyes. Keep out of reach of children.