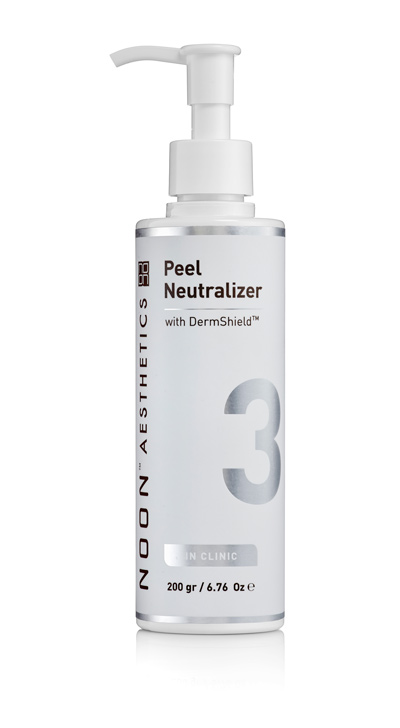 With DermShield™
Peel Neutralizer
Fast Acting, Refreshing and Soothing Solution to Neutralize Remaining Acids
pH level 3.8 – 4.0
Peel Neutralizer is a fast-acting, refreshing, and soothing solution used to neutralize any remaining acids which may be left on the skin after the application of a chemical peel. It allows control of the depth of the peel and ensures that the acid on the skin stops working after treatment completion. The Peel Neutralizer formulation is based on sodium bicarbonate as the main neutralizing agent, along with Propanediol which moisturizes the skin and prevents water loss, and the anti-irritant DermShield™️ complex.
Shake well. Apply with cotton pad or gauze to all areas that were treated by NOON peel formula. After neutralization, rinse with cold water. Follow the peel directions for use.
Warnings
Avoid contact with eyes and irritated skin. If contact with eyes occurs, rinse thoroughly with clear, cool water for at least 15 minutes. For external use only. Contains Strontium Chloride. Keep out of reach of children. Store at room temperature.
Sodium Bicarbonate – a common baking ingredient with natural skin benefits. Sodium Bicarbonate may help to brighten the skin and improve its complexion, and it can also help to balance the pH of the skin. Due to its alkaline nature, Sodium Bicarbonate is ideal for neutralizing acids used during chemical peels.
Full list of ingredients – Aqua, Propanediol, Sodium Bicarbonate, Polysorbate 20, Phenoxyethanol, Caprylyl Glycol.