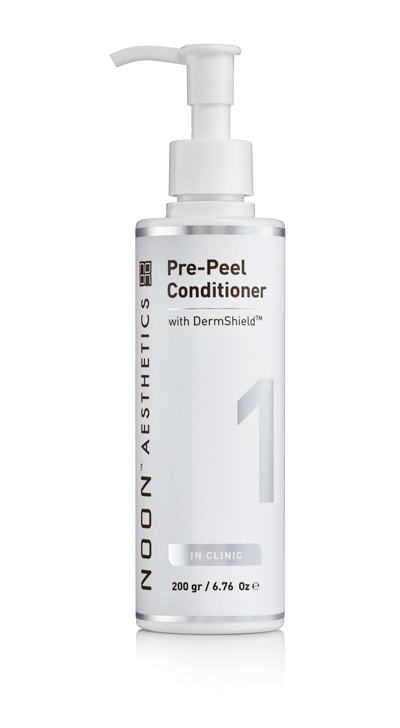 With DermShield™
Pre-Peel Conditioner
Prepares the Skin for Peeling, Fillers, Microneedling, and Laser Treatments
pH level 3.8 – 4.0
Pre-Peel Conditioner solution is used to prepare the skin for any in-clinic treatment such as peeling, microneedling, fillers, and lasers. It prepares the skin for peeling treatments by thoroughly degreasing the skin, allowing the peel agents to spread more evenly and penetrate more effectively. The formula also contains Chamomile extract along with the protective DermShield™️ complex, working together to calm the skin and prevent any irritation during application.
Shake well. Apply with cotton pad or gauze to all areas to be treated. Do not rinse. Allow skin to dry before proceeding to NOON's peel treatment. Follow the peel directions for use.
Warnings:
Avoid contact with eyes and irritated skin. If contact with eyes occurs, rinse thoroughly with clear, cool water for at least 15 minutes. For external use only. Contains Strontium Chloride. Keep out of reach of children. Store at room temperature.
Chamomile extract – Antioxidant, moisturizer, and skin soother. Chamomile extract helps to calm the skin, reduce discomfort and irritated sensation, and relieve redness. Thanks to its strong anti-inflammatory properties, it helps to protect against long-term and short-term skin inflammation and is therefore ideal before peeling treatments.
Full list of ingredients – Aqua, Ethanol, Chamomilla Recutita Flower Water, Strontium Chloride Hexahydrate, Dimethyl Sulfone, Polysorbate 20, Phenoxyethanol, Caprylyl Glycol, Benzyl Alcohol, Sodium Benzoate, Potassium Sorbate.