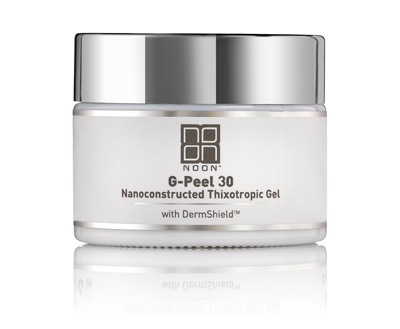 30% Glycolic acid formulated in a Nano-constructed Thixotropic gel + DermShield™
G-Peel 30
Nano-constructed Thixotropic Gel with 30% Glycolic Acid
For Professional In-Clinic Use Only
100ml
G-Peel 30 Nanoconstructed Thixotropic Gel is a glycolic acid Anti-aging peel that reduces the appearance of fine lines and wrinkles, sun damage, and hyperpigmentation. G-Peel 30 is active primarily in the epidermis and the papillary dermis, as it promotes skin regeneration and remodeling for a more even, smooth, and blemish-free texture. It is suitable for all skin types, including oily/problematic skin.
The G-Peel 30 Nanoconstructed Thixotropic Gel formula contains 30% glycolic acid along with NOON's protective DermShield™️ complex. The Glycolic acid is formulated into a nano-constructed Thixotropic Gel which significantly increases the peeling effect to enhance treatment effectiveness. The added DermShield™️ complex protects the skin from redness and irritation that are typically associated with high acid concentration and low pH levels.
30% Glycolic Acid – Glycolic acid is the smallest of all Alpha-Hydroxy-Acids (AHA) with excellent skin penetration and multiple benefits for dull, aged, blemished, and hyperpigmented skin. Glycolic acid is used primarily as a potent exfoliant, helping to dissolve proteins that hold together dead cells on the skin's surface. This in turn stimulates basal cells and increases the epidermal turnover, resulting in a brighter and smoother texture. Increased cellular turnover also promotes a stronger and more resilient skin barrier, improves skin hydration, and enhances skin protection. Deeper in the skin, glycolic acid stimulates fibroblasts to produce new skin fibers, reducing wrinkles and improving firmness and elasticity.
Full list of Ingredients: Glycolic Acid, Aqua, Dimethyl Sulfone, Silica (nano), Strontium Chloride Hexahydrate, Dimethyl Isosorbide
For professional use only. Avoid contact with the eyes and avoid sun exposure after treatment. Before applying the peel, read the instructions and treatment protocol thoroughly.