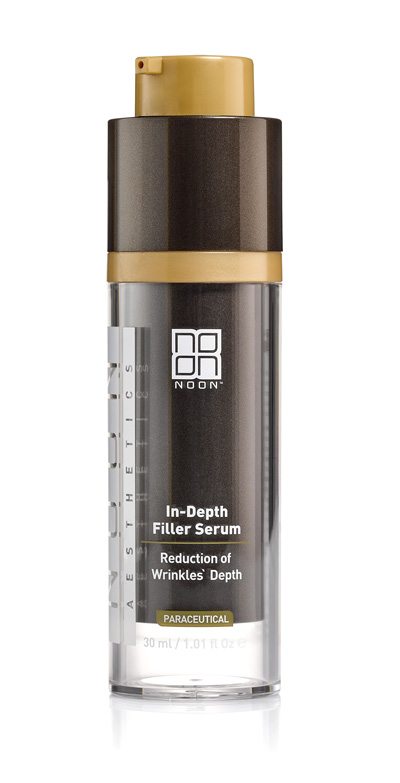 Reduction of Wrinkles' Depth
In-Depth Filler Serum
Reduction of Wrinkles' Depth
Wrinkle Filler, Deep Moisturizer and Antioxidant
In-Depth Filler Cream is a potent wrinkle-filling treatment, formulated with the synergetic power of multiple anti-aging ingredients, and is proven to reduce the appearance of wrinkles and other signs of aging. In-Depth Filler Cream helps to smooth wrinkles, improve skin's texture and tone, promote hydration and elasticity, reduce the appearance of age spots, and slow the appearance of skin aging.
Apply a thin layer onto the face and neck up to twice a day, or as instructed by your skincare specialist.
Warnings
For external use only. Avoid direct contact with the eyes. Rinse with water to remove. Keep out of reach of children.
MG6P – Methyl-Glucoside-6-Phosphate (MG6P) is a wrinkle-reducing complex that includes the amino acids proline and lysine, coupled together with copper ions. This amino-acid complex provides a new source of bioenergy for fibroblasts, stimulating the synthesis of skin fibers and reinforcing the overall extra-cellular matrix structure.
Tetradecyl Aminobutyroylvalylaminobutyric Urea Trifluoroacetate (TAUT) – a tripeptide that specializes in boosting hyaluronic acid production (up to 300%). It helps to increase skin hydration, promote collagen synthesis, and allow all skin cells to function more effectively, leading to a visible remodeling effect and firmer skin.
Xylinum (Black Tea) Ferment – a product of the fermentation of sweet black tea that works to protect the extra-cellular matrix (ECM). Xylinum Black Tea Ferment inhibits glycation of collagen and elastin fibers, prevents premature fiber degradation, and promotes firmer and more elastic skin.
Sodium Hyaluronate – high molecular weight hyaluronic acid with very high purity that provides intensive hydration. Sodium Hyaluronate's remarkable hygroscopic properties enable effective retention of moisture at the surface of the skin, keeping it well-hydrated, elastic, and plumped.
Arnica Montana Flower Extract – aka "Mountain Daisy", Arnica Montana is a bright yellow flowering herb with great soothing and healing properties. It helps to alleviate itchiness and irritation, expedites skin healing, and reduces swelling and puffiness.
Sodium PCA – a major component of the skin's NMF (Natural Moisturizing Factor). It features a powerful hygroscopic capability that helps to retain moisture in the upper layers of the skin, keeping it well-hydrated, elastic, and smooth.
Full list of ingredients – Aqua, Arnica Montana Flower Extract, Caprylyl Glycol, Citric Acid, Copper Lysinate/Prolinate, Glycerin, Hydroxyethylcellulose, Magnesium Chloride, Methylglucoside Phosphate, Phenoxyethanol, Tetradecyl Aminobutyroylvalylaminobutyric Urea Trifluoroacetate (TAUT), Saccharomyces/Xylinum/Black Tea Ferment, Sodium Hyaluronate, Sodium Pca, Potassium Sorbate, Sodium Benzoate, Sodium Citrate, Xanthan Gum, Propanediol, Lecithin.