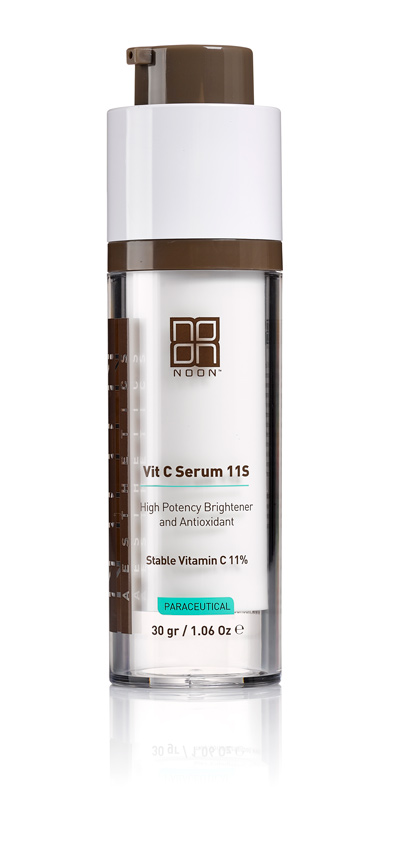 High Potency Brightener and Anti-Oxidant
Vit C Serum 11S
High Potency Brightener and Antioxidant
Vit C Serum 11S formulation contains high concentrations of Stable Vitamin C derivatives. This innovative anti-aging formula maintains the stability of vitamin C as it penetrates the deeper layers of the skin. A high concentration of 11% Vitamin C (stable derivatives) provides a powerful brightening effect, while effectively fighting free radicals and improving firmness & elasticity.
Apply a thin layer on the face, neck, and chest areas up to twice a day, or as instructed by a skincare specialist.
Warnings
For external use only. Avoid direct contact with the eyes. Keep out of reach of children.
6% Ascorbyl Tetraisopalmitate – an oil-soluble Vitamin C derivative. It promotes collagen synthesis and inhibits lipid peroxidation and premature skin aging. Thanks to its protective properties, Ascorbyl Tetraisopalmitate protects cellular DNA from damage caused by UVB radiation. It is stable at high temperatures and has good solubility in oils. Ascorbyl Tetraisopalmitate is a lipophilic antioxidant that is active primarily in the papillary dermis.
5% Ascorbyl Glucoside – a natural water-soluble Vitamin C (Ascorbic Acid) stabilized with glucose for enhanced potency. Ascorbyl Glucoside reduces and prevents pigmentation by suppressing melanin synthesis in melanocytes. In addition, it reduces the amount of pre-existing melanin pigments, resulting in a lighter complexion. This comprehensive skin lightening solution is also used for revitalizing dull skin and reversing signs of aging such as fine lines and wrinkles. Ascorbyl Glucoside is a hydrophilic antioxidant that helps to prevent oxidative stress in the epidermis and premature skin aging.
Plankton Extract – an extract from Scenedesmus phytoplankton (micro-algae). It provides intense hydration to the skin while protecting it from UV radiation. Plankton extract is rich in antioxidants that help to prevent oxidative stress and premature signs of aging. It also helps to repel pollutants and toxins from the surface of the skin, making it more resilient to external stress.
Full list of ingredients – Aqua, Ascorbyl Tetraisopalmitate, Ascorbyl Glucoside, Isononyl Isononanoate, Cyclopentasiloxane, Propanediol, Caprylic/Capric Triglyceride, Squalane, Plankton Extract, Prunus Armeniaca (Apricot) Kernel Oil, Phenoxyethanol, Potassium Hydroxide, Dimethicone, Sodium Citrate, Ppg-3 Benzyl Ether Myristate, Butylene Glycol (wrote Propylen Glycol), Xanthan Gum, Tocopheryl Acetate, Ethylhexyl Cocoate, Sodium Polyacrylate, Caprylyl Glycol, Citric Acid, Sodium Phytate, Polysorbate 20, Alcohol.