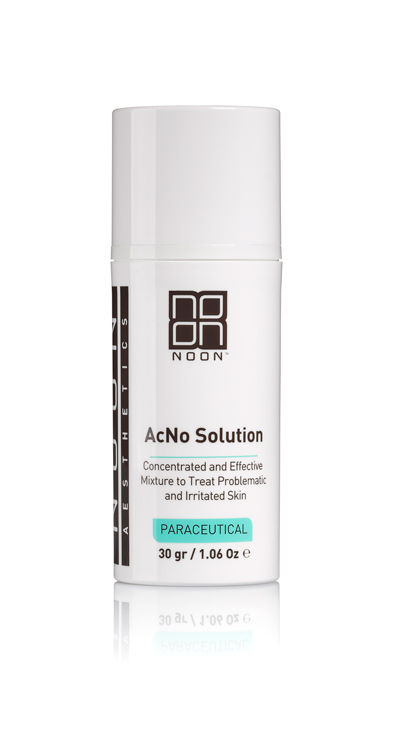 A Concentrated Formulation for Treating Problematic, Oily, and Acne-Prone Skin
AcNo Solution
A Concentrated Formula for Treating Problematic, Oily, and Acne-Prone Skin
AcNo Solution is a concentrated and effective formulation for the treatment of problematic, oily, and acne-prone skin.
The treatment is based on a mixture of active ingredients that help to decrease pathogenic bacterial load, reduce skin oiliness, and minimizes inflammation that causes redness and irritation. The formula also contains 30% Perfluorocarbon Emulsion that releases oxygen into the pores, creating an oxygenized environment to counter anaerobic bacteria, such as P. acnes.
Apply a thin layer onto the face and any other inflamed area(s), or as instructed by a skincare specialist.
Warnings
For external use only. Avoid direct contact with the eyes. Rinse with water to remove. Keep out of reach of children.
4% Niacinamide – a pro-vitamin that significantly reduces sebum production. It has potent anti-inflammatory and anti-bacterial properties that provide effective treatment without the risk of bacterial resistance or side effects.
30% Perfluorocarbon Emulsion – an oxygen carrier agent that drenches the skin with ready-to-use oxygen. Since the P. acne bacteria is anaerobic (i.e., proliferating in the absence of oxygen, such as inside clogged pores), creating an oxygen-rich environment is ideal for the treatment of acne. Moreover, oxygen boosts the metabolism of other cells in the skin and helps them to restore healthy activity.
Oligopeptide-10 – a patented antimicrobial peptide that exhibits excellent activity against the P. acne bacteria and can replace antibiotics in long-term acne treatment.
Avena Sativa Extract ("Wild Oats") – fights inflammation and helps to regulate the skin's immune response by reducing secretions of pro-inflammatory cytokines in acne-infested skin.
Full list of ingredients – Aqua, Methyl Perfluorobutyl Ether, Isododecane, Propanediol, Polymethylsilsesquioxane, Niacinamide, Glycerin, Phenoxyethanol, Boswellia Serrata Extract, Oryza Sativa (Rice) Bran Extract, Gaultheria Procumbens (Wintergreen) Leaf Extract (Slicylic Acid), Polysilicone-11, Butylene Glycol, Ppg-3 Benzyl Ether Myristate, Oligopeptide-10, Polysorbate 20, Hydroxyethylcellulose, Ethylhexyl Cocoate, Sodium Polyacrylate, Caprylyl Glycol, Decyl Glucoside, Cocamidopropyl Betaine, Sodium Benzoate, Honey Extract, TEA.