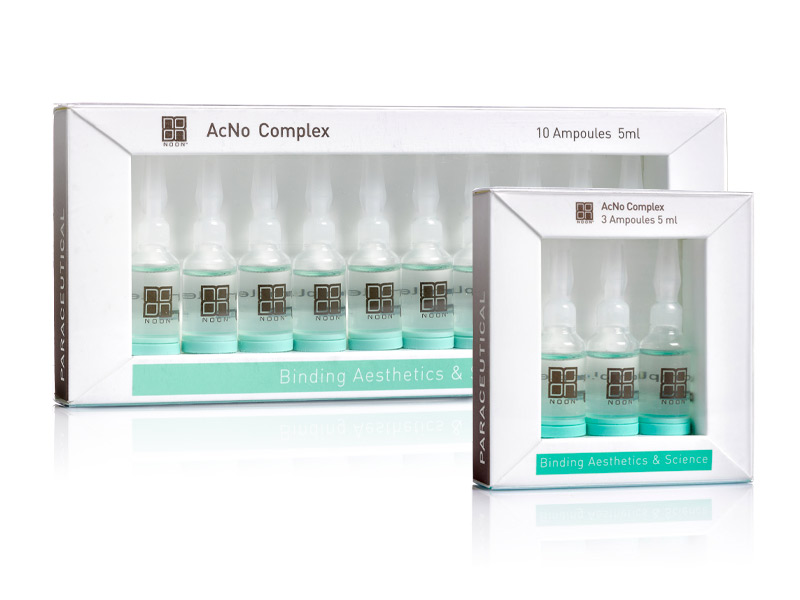 Concentrated Mixture of Anti-Inflammatory Agents for Problematic Skin
AcNo Complex
A Concentrated Mixture of Anti-Inflammatory Agents for Problematic Skin
AcNo Complex is a concentrated and effective mixture of anti-inflammatory agents for the treatment of oily and problematic skin.
The AcNo Complex reduces the oiliness of the skin, decreases redness and inflammation, replenishes hydration and moisture levels, and helps to soothe and calm the skin. This treatment ultimately purifies the skin and pores and creates the conditions that help reduce the proliferation of acne-causing bacteria.
Benefits of AcNo Complex:
Balances skin oiliness
Reduces inflammatory elements
Decreases redness
Hydrates, soothes and improves the skin's moisture level
Break the plastic cover on the tip of the ampoule, leaving the applicator exposed. Flip the ampule upside down and press the bottom to squeeze out several drops of serum to your fingers, then apply onto the face and neck up to twice a day, or as instructed by your skincare specialist. Replace the plastic tip cover after use.
Warnings
For external use only. Avoid direct contact with the eyes. Keep out of reach of children. Store in a dry and cool place.
6% Niacinamide – a pro-vitamin that significantly reduces sebum production. It has potent anti-inflammatory and anti-bacterial properties that provide effective treatment without the risk of bacterial resistance or side effects.
Dipotassium Glycyrrhizate – an anti-inflammatory agent isolated from licorice root. Studies have shown it can reduce redness and irritation that are commonly associated with various skin conditions such as Acne, Rosacea, Psoriasis, and some types of Dermatitis.
Oligopeptide-10 – a patented antimicrobial peptide that exhibits excellent activity against the P. acne bacteria and can replace antibiotics in long-term acne treatment.
Botanical Extract Complex (Oryza Sativa Bran Extract, Boswellia Serrata Extract) – contain antioxidants and anti-inflammatory ingredients that help to soothe irritated skin.
Sodium PCA – a major component of the skin's NMF (Natural Moisturizing Factor). It features a powerful hygroscopic capability that helps to retain moisture in the upper layers of the skin, keeping it well-hydrated, elastic, and smooth.
Full list of ingredients – Aqua, Propandiol, Niacinamide, Sodium PCA, Dipotassium Glycyrrhizinate, Phenoxyethanol, Oligopeptide10, Boswellia Serrata Extract, Oryza Sativa (Rice) Bran Extract, Butylene Glycol, Citric Acid, Hydroxypropyl Guar, Caprylyl Glycol, Sodium Benzoate, Honey Extract.
Available Quantities:
Home-use

package with 3 ampules (5ml each)
Clinic

package with 10 ampules (5ml each)