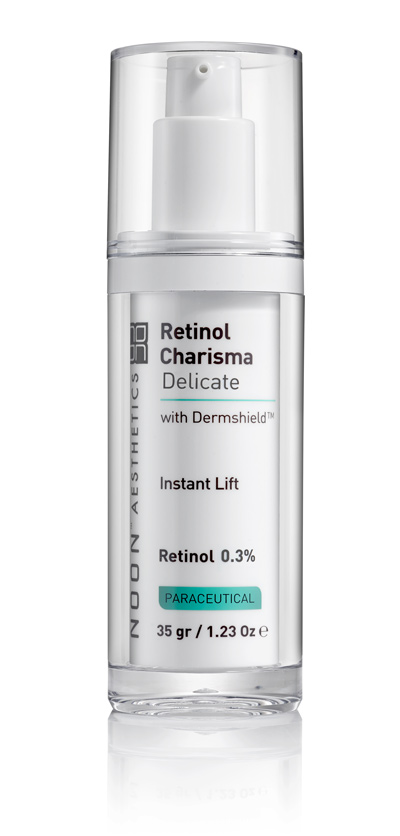 0.3% Retinol with DermShield™
Retinol Charisma Delicate 0.3%
Retinol 0.3% for All Skin Types, All Year-Round, Without Irritation
Retinol Charisma is an anti-aging skin booster that improves the quality of the skin, increases skin firmness, brightens the appearance of dark spots, and helps to reduce the appearance of fine lines and wrinkles. This retinol-based formula, with the added DermShield™️ protective complex, allows users of all skin types to enjoy the benefits of retinol without having side effects that are commonly associated with daily retinol use.
Retinol Charisma Delicate, with 0.3% retinol, is ideal for first-time retinol users or for people with milder signs of skin aging.
Safe during pregnancy and breast-feeding.
Apply a thin layer on the face, eye, neck and chest areas up to twice a day, or as instructed by a skincare specialist. During daytime, it is recommended to also apply NOON Brush&Go™ sunscreen powder with SPF 50
Warnings
For external use only. Avoid direct contact with the eyes. Keep out of reach of children.
0.3% Retinol – one of the most powerful "Anti-Aging" corrective ingredients. Retinol smooths skin texture, actively reduces fine lines, helps to prevent photoaging, reduces the appearance of pigmented spots, balances sebum secretions, facilitates dermal reconstruction, and firms the skin. Regular use of retinoids greatly contributes to the quality of the skin, reverses aging processes, and increases skin turnover. Effective treatment of photodamage requires consistent use of retinoids. The use of retinol products with the protective DermShield™ complex minimizes sunlight sensitivity and prevents irritation.
Oligopeptide-68 – an innovative and unique whitening peptide that reduces the appearance of dark spots and skin discoloration. Ideal for hyperpigmented and dull skin.
Leontopodium Alpinum Callus Culture Extract – Leontopodic acid, discovered for the first time in Leontopodium alpinum, has extraordinary radical-scavenging and epidermal protection properties. It significantly enhances levels of key proteins which help to create and reinforce a protective cellular barrier against UV damage and other external stresses.
Methyl Perfluorobutyl Ether (Perfluorocarbon Emulsion) – a potent delivery system for non-ROS oxygen. Clinically shown to improve tissue oxygenation and cellular metabolism, treat damaged skin cells, and reverse signs of aging.
Full list of ingredients – Aqua, Methyl Perfluorobutyl Ether, Isododecane, Glycerin, Polymethylsilsesquioxane, Butylene Glycol, Acetamide MEA, Dimethyl Sulfone, Strontium Chloride Hexahydrate, Oligopeptide-68, Leontopodium Alpinum Callus Culture Extract, Retinol, Hydrogenated Lecithin, Phenoxyethanol, Polysilicone-11, Xylitol, Anhydroxylitol, Xylitylglucoside, Hydroxyethylcellulose, Caprylyl Glycol, Xanthan Gum, Sodium Phytate, Decyl Glucoside, Sodium Oleate, Disodium Edta, Xylitol Hydroslub, Glycerin.