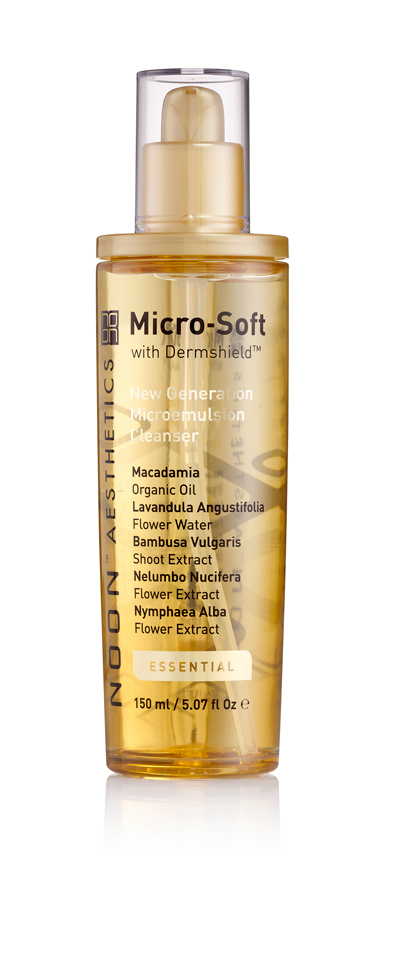 Nourishing and Soothing Microemulsion Cleanser for Sensitive and Dry Skin Types
Micro-Soft
Nourishing and Soothing Microemulsion Cleanser for Sensitive and Dry Skin Types
Micro-Soft is an extra gentle cleanser formulated specifically to protect dry skin. This cleanser does not contain SLS and does not foam at all. It is designed to protect the natural oils of the lipid barrier while removing impurities from the skin. It is based on a unique crystal-clear micro-emulsion containing both water and oil in a single phase. The micro-emulsion easily washes off without oily residues, leaving a very soft sensation. The advanced micro-emulsion formula is most efficient in removing long-wear makeup and is very safe and highly recommended for use around the eye area.
Apply the required amount of cleanser with your hands onto dry skin and massage gently.
Rinse off with lukewarm water.
Warnings:
For external use only. Avoid direct contact with the eyes. Keep out of reach of children.
Lavandula Angustifolia Flower Water – Lavender water calms and balances the skin, improves moisture levels, and effectively removes skin impurities. Lavender is known for its antimicrobial properties which help to kill excess bacteria and purify clogged pores.
Macadamia Ternifolia Seed Oil (Organic) – rich in vitamin E, fatty acids, oleic acid, linoleic acid, palmitoleic acid, and other nourishing ingredients. This non-comedogenic oil has anti-inflammatory, antioxidant, and anti-irritant properties which are most suitable for dry and sensitive skin types. It deeply cleanses the skin and pores without clogging them, leaving the skin properly detoxified, soft, and supple.
Bambusa Vulgaris Extract + Nelumbo Nucifera Extract + Nymphaea Alba Extract – a synergistic complex of three natural extracts: White Lotus, Indian Lotus, and Bamboo. This extremely soothing complex provides optimal nourishment to skin cells and helps to reduce redness and sensitivity. These ingredients also help to gently degrease the skin, open clogged pores, and remove impurities from the skin's surface.
Full list of ingredients: PEG 20 Glyceryl Triisostearate, Isopropyl Isostearate, Isohexadecane, Propanediol, Isopropyl Myristate, Aqua, Lavandula Angustifolia Flower Water, Macadamia Ternifolia Seed Oil, Squalane, Dymethyl Sulfone, Strtontim Chloride Hexahydrate, Babusa Vulgaris Shoot Extract, Nelimbo Nucifera Extract, Nymphaea Alba Root Extract, Panthenol, Butylene Glycol, Glycerin, Hydrogenated Hydrolysate, Propylene Glycol, Caprylyl Glycol, Benzyl Alcohol, Sodium Benzoate, Potassium Sorbate, Phenoxyethanol, Fragrance, Citrus Aurantium Bergamia Fruit Oil, Citrus Paradise (Grapefruit) Seed oil.
Available Quantities:
Clinic/Home-use

size (150ml)