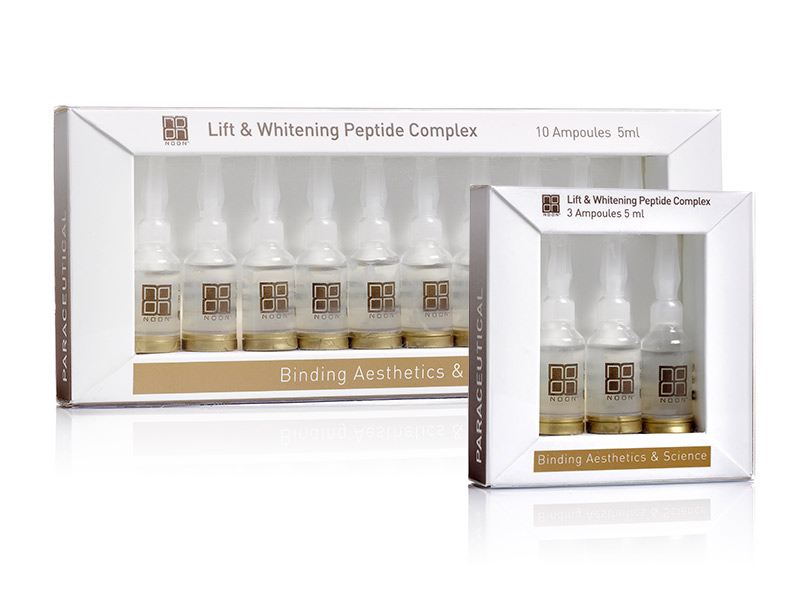 Concentrated Blend of Bioactive Peptides
Lift & Whitening Peptide Complex
Concentrated Blend of Bioactive Peptides For Skin Firming & Brightening
Lift & Whitening Peptide Complex is an effective and highly concentrated serum of bioactive peptides that work synergistically to increase skin firmness and elasticity, reduce the appearance of wrinkles & dark spots, and improve skin texture & tone. The formula also contains natural extracts and hydration boosters that keep the skin supple, calm, and radiant.
Benefits of Lift & Whitening Peptide Complex:
Activates multiple regeneration pathways in the dermis
Significantly reduces the appearance of wrinkles
Improves the skin's moisture levels and turgor o Helps to reduce the visibility of age spots
Promotes skin brightening and elasticity
Break the plastic cover on the tip of the ampoule, leaving the applicator exposed. Flip the ampule upside down and press the bottom to squeeze out several drops of serum to your fingers, then apply onto the face and neck up to twice a day, or as instructed by your skincare specialist. Replace the plastic tip cover after use.
Warnings
For external use only. Avoid direct contact with the eyes. Keep out of reach of children. Store in a dry and cool place
Palmitoyl Tripeptide-38 (Matrixyl Synthe'6) – This formula contains an extremely high concentration of Matrixyl Synthe'6 which is considered a potent firming booster. It is a Matrikine-mimetic peptide that promotes wrinkle-reduction by stimulating the synthesis of 6 major structural components of the dermis: hyaluronic acid, collagen type I, III and IV, laminins, and fibronectin. It reinforces the extra-cellular matrix, stimulates collagen synthesis, and significantly enhances skin firmness, elasticity, and tone.
Cyclotetrapeptide-24 Aminocyclohexane Carboxylate – A unique cyclic peptide that reduces the appearance of wrinkles and fine lines. Its unique design as an intelligent and selective peptide mimics the natural processes of cellular communication and skin repair.
Oligopeptide-68 – a potent whitening peptide that reduces the appearance of dark spots and skin discoloration. Ideal for hyperpigmented and dull skin.
Swertia Chirata Extract – An innovative ingredient made from Indian Gentian leaves that has been formulated to help rejuvenate and thicken the skin. It has been shown to reduce the appearance of vertical wrinkles around the lip area, as well as to reduce lipstick migration by 50% in as little as 28 days!
Sodium Hyaluronate – A high molecular weight hyaluronic acid with very high purity that provides deep hydration. Sodium Hyaluronate is a powerful hygroscopic substance that helps the skin retain its moisture and remain well-hydrated and plumped.
Sodium PCA – a major component of the skin's NMF (Natural Moisturizing Factor). It features a powerful hygroscopic capability that helps to retain moisture in the upper layers of the skin, keeping it well-hydrated, elastic, and smooth.
Full list of ingredients – Aqua, Propanediol, Glycerin, Maltodextrin, Butylene Glycol, Ethanol, Sodium Pca, Phenoxyethanol, Lecithin, Ectoine, Citric Acid, Hydroxypropyl Guar, Sodium Hyaluronate, Caprylyl Glycol, Hydroxypropyl Cyclodextrin, Swertia Chirata Extract, Palmitoyl Tripeptide-38, Oligopeptide-68, Hydrogenated Lecithin, Glycine Soja (Soybean) Oil, Hydrogenated Lechitin, Cyclotetrapeptide-24 Aminocyclohexane Carboxylate, Sodium Oleate, Disodium Edta.
Available Quantities:
Home-use

package with 3 ampules (5ml each)
Clinic

package with 10 ampules (5ml each)