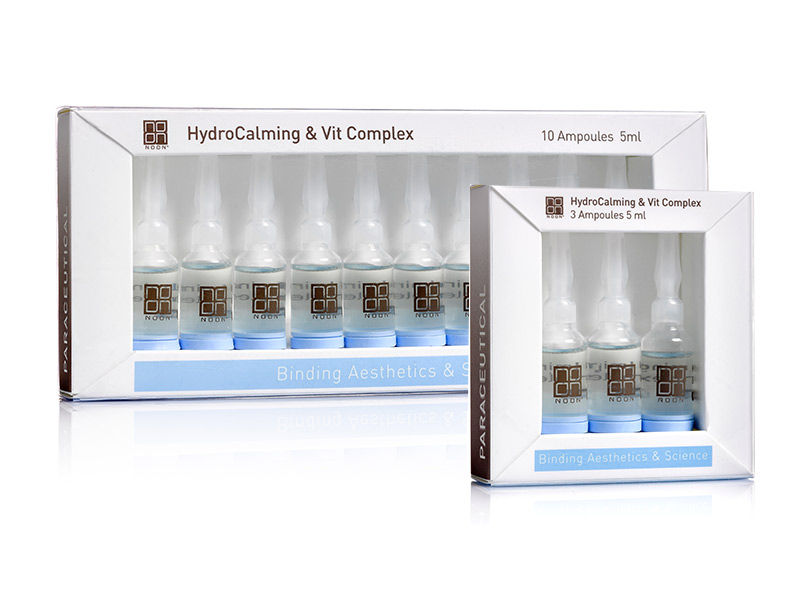 Concentrated Blend of Hydrating & Soothing Extracts
HydroCalming & Vit Complex
Concentrated Blend of Hydration & Soothing Extracts

HydroCalming & Vit Complex is a concentrated nourishing blend of effective moisturizing ingredients, herbal extracts, and vitamins. This complex replenishes the skin's moisture balance and provides immediate relief to sensitive and dry skin. The serum also helps to reduce the appearance of redness while nourishing the skin with essential vitamins and antioxidants to keep it calm, radiant, and well-protected from oxidative stress.
Benefits of HydroCalming & Vit Complex:
Calms the skin after a facial treatment
Improves the skin's moisture levels
Nourishes the skin with essential vitamins and antioxidants
Increases skin's firmness and elasticity.
Break the plastic cover on the tip of the ampoule, leaving the applicator exposed. Flip the ampule upside down and press the bottom to squeeze out several drops of serum to your fingers, then apply onto the face and neck up to twice a day, or as instructed by your skincare specialist. Replace the plastic tip cover after use.
Warnings
For external use only. Avoid direct contact with the eyes. Keep out of reach of children. Store in a dry and cool place.
Sodium Hyaluronate – high molecular weight hyaluronic acid with very high purity that provides deep hydration. Sodium Hyaluronate features remarkable hygroscopic properties which allow for retention of moisture at the surface of the skin, playing a key role in maintaining adequate water balance in the epidermis.
Alteromonas Ferment Extract – An excellent hydrating agent. Alteromonas Ferment Extract restores Hyaluronic Acid production in aged skin cells, stimulates lipid synthesis, supports the dermal-epidermal junction, and induces filaggrin expression in the skin. This ingredient helps maintain an optimal skin barrier function and has excellent hydrating properties, as it reinforces the skin's natural moisturizing factors and promotes lipids synthesis.
Aphanizomenon Flos-aquae Extract – a freshwater unicellular blue-green algae (Cyanophyta) rich in phycocyanin (PC); a photosynthetic pigment with anti-oxidative and anti-inflammatory properties that acts like a natural retinoid, smoothing the skin without unwanted side effects. It helps maintain skin hydration and promotes the production of natural moisturizing factors.
Dipotassium Glycyrrhizinate – an anti-inflammatory agent isolated from licorice root. Thanks to its sebum regulating properties, Dipotassium Glycyrrhizinate reduces oiliness and helps to prevent breakouts. An ideal ingredient for irritated and acne-prone skin types.
Arnica Montana Flower Extract – has been used for centuries as a medicinal flower in Asia and Europe, to alleviate irritations and promote wound healing. Also known as "the flower of angels" and "the energy flower", the Arnica Montana flower extract features remarkable skin healing and soothing properties. Plant-derived formulations are used as antioxidants and inhibitors of pro-inflammatory cytokines to treat inflammatory-related disorders.
Sodium PCA – a major component of the skin's NMF (Natural Moisturizing Factor). It features a powerful hygroscopic capability that helps to retain moisture in the upper layers of the skin, keeping it well-hydrated, elastic, and smooth.
Full list of ingredients – Aqua, Propandiol, Hydrogenated Starch Hydrolysate, Sodium PCA, Dipotassium Glycyrrhizinate, Butylene Glycol, Phenoxyethanol, Arnica Montana Flower Extract, Citric Acid, Hydroxypropyl Guar, Sodium Hyaluronate, Caprylyl Glycol, Aphanizomenon Flos-Aquae Extract, Alteromonas Ferment Extract.
Available Quantities:
Home-Use

package with 3 ampules (5ml each)
Clinic package

with 10 ampules (5ml each)