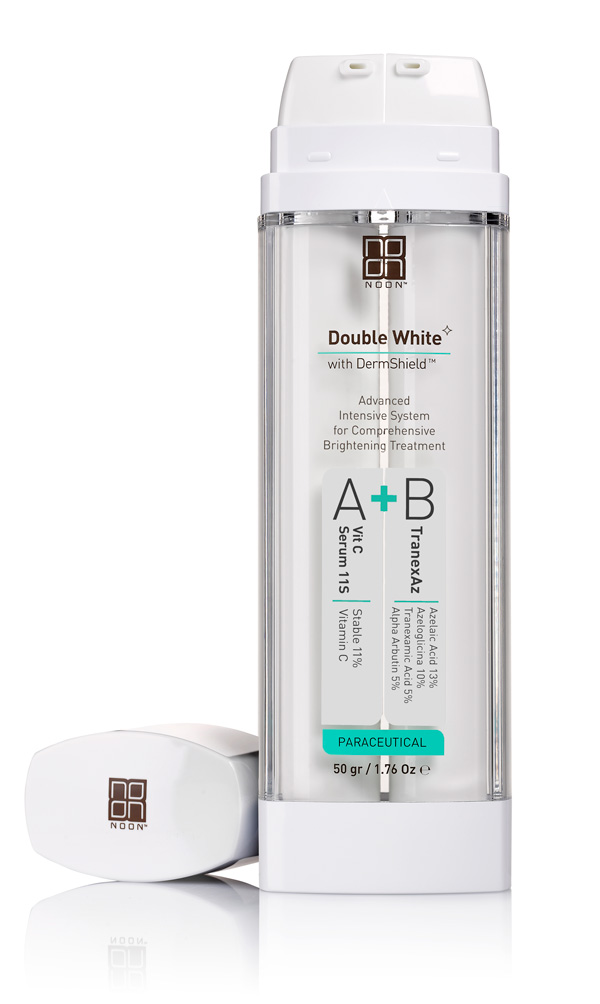 Advanced Intensive System for Comprehensive Skin Brightening Treatment
Double White
Advanced Intensive System for Comprehensive Skin Brightening Treatment
Double White is a powerful skin brightening treatment for dull and pigmented skin that is based on two products:
A: Vit C Serum 11S (11% stable vitamin C)
B: TranexAz (13% Azelaic acid + 10% Azeloglicina® + 5% Tranexamic acid + 5% Alpha Arbutin)
Double White features a powerful blend of brightening agents that work synergistically to reduce and prevent the appearance of pigmented spots, promote a more homogenized and illuminated complexion, and protect the skin structure from free radical's damage.
Double White is designed to reduce the appearance of all types of hyperpigmentation, including melasma, sunspots, age spots, and post-inflammatory hyperpigmentation.
Apply a thin layer of Vit C Serum 11S (A) and then apply a thin layer of TranexAz (B). Apply up to twice a day onto the face, neck, and chest, or as instructed by your skincare specialist. During daytime, it is also recommended to use NOON Brush&Go™ sunscreen powder brush with SPF50
Warnings
For external use only. Avoid direct contact with the eyes. Keep out of reach of children. Contains Strontium Chloride. Store in a dry and cool place.
A.1: 6% Ascorbyl Tetraisopalmitate – an oil-soluble Vitamin C derivative. It promotes collagen synthesis and inhibits lipid peroxidation and premature skin aging. Thanks to its protective properties, Ascorbyl Tetraisopalmitate protects cellular DNA from damage caused by UVB radiation. It is stable at high temperatures and has good solubility in oils. Ascorbyl Tetraisopalmitate is a lipophilic antioxidant that is active primarily in the papillary dermis.
A.2: 5% Ascorbyl Glucoside – a natural water-soluble Vitamin C (Ascorbic Acid) stabilized with glucose for enhanced potency. Ascorbyl Glucoside reduces and prevents pigmentation by suppressing melanin synthesis in melanocytes. In addition, it reduces the amount of pre-existing melanin pigments, resulting in a lighter complexion. This comprehensive skin lightening solution is also used for revitalizing dull skin and reversing signs of aging such as fine lines and wrinkles. Ascorbyl Glucoside is a hydrophilic antioxidant that helps to prevent oxidative stress in the epidermis and premature skin aging.
B.1: 13% Azelaic Acid – a potent yet gentle skin brightener with antioxidant and antimicrobial benefits. Azelaic acid reduces signs of pigmentation by inhibiting the Tyrosinase enzyme, which is responsible for melanin synthesis within melanocytes. In addition to its strong brightening properties, Azelaic acid also helps to clear bacteria from the pores, reduce inflammation, and encourage cellular turnover, providing an effective treatment for blemishes and acne-prone skin types.
B.2: 10% Azeloglicina® –  an Azelaic acid derivative (Potassium Azeloyl Diglycinate) designed to illuminate skin complexion. Azeloglicina® inhibits melanin synthesis by reducing the production of the Tyrosinase enzyme. It also helps to reduce sebum production in oily skin types to minimize acne breakouts. Azeloglicina® improves skin radiance, evenness, cutaneous elasticity, and hydration.
B.3: 5% Tranexamic Acid (TA) – a brightening powerhouse that can interrupt multiple pathways related to surface discolorations. The effectiveness of TA has been shown to be equal to Hydroquinone, only without the common side effects that are associated with Hydroquinone. TA provides and effective treatment for melasma, post-acne spots, and other types of pigmentation, and it is well-tolerated by any skin type, age, or ethnicity. In addition to its remarkable ability to reduce dark spots and discoloration, TA has also been shown to promote a stronger skin barrier function, reduce inflammations in the skin, and improve the appearance of rosacea-affected skin.
B.4: 5% Alpha Arbutin – a natural alternative to synthetic Hydroquinone that actively and effectively reduces pigmented spots without side effects or cytotoxicity. Alpha Arbutin reduces pigmentation by deactivating the Tyrosinase enzyme and inhibiting the formation of melanosome – the organelles where melanin is synthesized. This dual anti-pigmentation action guarantees a strong lightening effect, making Alpha Arbutin a highly effective ingredient in the treatment of UV-induced pigmentation, melasma, and other forms of hyperpigmentation.